DESIGN AND IMPLEMENTATION OF A WEB BASED SYSTEM THAT WILL LINK FARMERS TO BUYERS
ABSTRACT
Agricultural marketing incorporates all exercises which enhance value to agricultural products as they move from rural areas of agricultural production to ultimate urban areas for consumption. A successful and productive marketing system is required in order to ensure fair returns to farmers but unfortunately little consideration is paid to this sector across Nigeria. In this research, an effort has been made to design and implement a Farm product and marketing system for farmers to showcase their agricultural products after a successful harvest season. Most times this farmers' mistake marketing efficiency with marketing margins and physical losses and state of market competition. These indicators are also discussed in this chapter. Further, the research also covers major areas to identify major agricultural marketing problems with their possible solutions using modern web technology.
CHAPTER ONE
INTRODUCTION
Agriculture sector in Nigeria is considered a major contributor to economic growth and development. This sector not only meets food demands of population but also provides raw material for industry besides providing surplus for exports. Despite the face this sector has witnessed many high points and low points in recent years, overall growth has remained satisfactory. This sector has a proven great potential to support the nation's economy both now and in the future if due consideration is given to solve rising issues. Reasonable agriculture growth and improvement rely on how concerns various partners particularly farmers who are facing several risks in farm production and marketing of their farm produce, are adequately addressed. Regularly, farmers need to bear value reduction in their produce due to poor infrastructure and post-harvest practices. Moreover, frequent food surpluses and deficiencies have featured the need to modernize marketing system framework so that goal situations can be handled. Marketing can be defined and comprehended in various ways but commonly it is recognized as a place or areas where buyers and sellers gather and interact for buying and selling goods and services.
Many other scholars has described marketing as an exchange process of goods and services accompanied by price making mechanism. Agricultural markets play a central role of assembling rural agricultural produce from scattered and vast production areas and distribute these commodities further to consumers and other stakeholders in urban and peri-urban areas. Agricultural marketing most times encompasses activities which may be picking/harvesting, drying, cleaning, sorting, grading, processing, packaging, labeling, transporting, storage, promotion and sale of agricultural products. All these major activities contribute in adding value to agricultural products as these products flow from farm producers to consumers. While some of these major activities are performed on farmers' farm, the others are carried out off-farm by other market intermediaries such as traders and agro-processors.
1.2 STATEMENT OF THE PROBLEM
Agricultural farm products differ from industrial products due to their perishable nature and special requirements during various harvesting process and transportation operations. There is a need to design a farm product marking system to aid in displaying farm produce from farmers across the country to meet major stakeholders in need of this farm products. This will assist in growing the economy of the country when international investors invest in the farm produce seen on the marketing system. Furthermore, agricultural marketing includes all business activities designed to plan, price, promote and distribute want satisfying goods and services to household consumers and industrial users.
1.3 OBJECTIVE OF THE STUDY
The following are the objectives of the study:
To design and implement a Farm Product Marketing system to aid farmers in rural areas have a proper platform to promote their farm product.
Enhance link between Farmers and end product users in urban areas.
Ease the distribution of farm products across the country through technology.
SCREEN SHOTS OF THE APPLICATION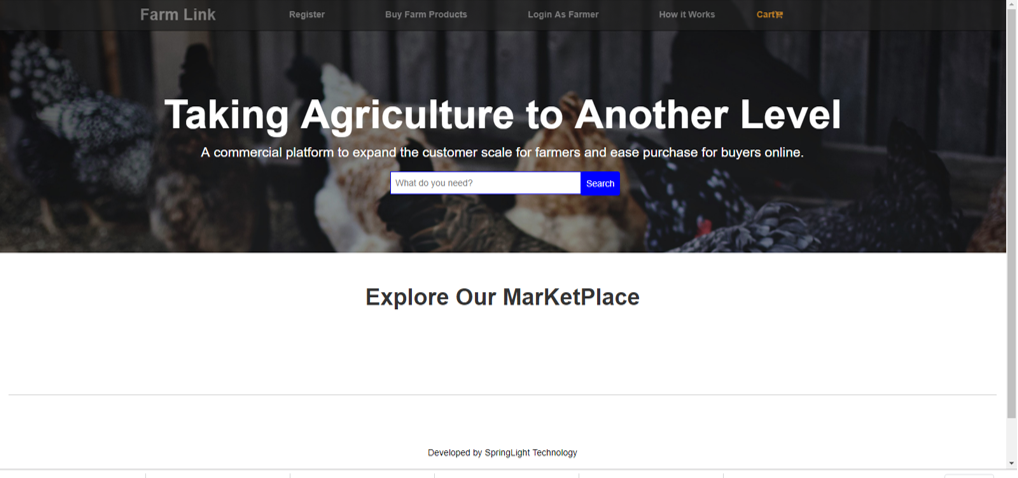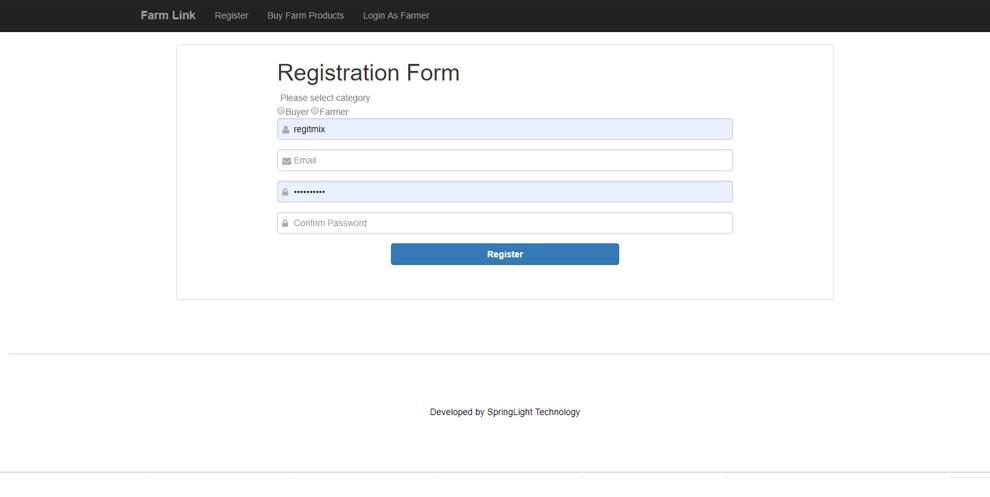 1.4 SIGNIFICANCE OF THE STUDY
Agriculture is a well-organized and vibrate sector in Africa, it contributes significantly to the growth of any economy. It also provides employment to over 1.5 million people. Recently, this sector has shown 8 to 10 percent growth rate per annum due to rising demand of various agricultural products. It is observed that an agricultural commodity changes seven to eight different hands before reaching ultimate consumers. Functions performed by various market bodies (especially the middlemen in the market chain) remain one of the most controversial issues in Africa's agricultural economy. It is argued that middlemen exploit marginal farmers and hamper their legitimate share which can be solved with the use of technology to link farmers directly to buyers.
1.5 DEFINITION OF TERMS
Farmers - a person who owns or manages a farm.
Technology - the application of scientific knowledge for practical purposes, especially in industry.
Link - a relationship between two things or situations, especially where one affects the other.
Investor- a person or organization that puts money into financial schemes, property, etc. with the expectation of achieving a profit.
Exchange - an act of giving one thing and receiving another (especially of the same kind) in return
Market- a regular gathering of people for the purchase and sale of provisions, livestock, and other commodities.
Agriculture - a regular gathering of people for the purchase and sale of provisions, livestock, and other commodities.